Uli Kapp- artist
My artwork is a combination of my experience with sudden life changes, Trauma, Healing, Energy, and Bodywork. My intention is to achieve and keep health and happiness, and physical and emotional wellbeing. I am using artwork as a healing tool, as well as for myself as my clients.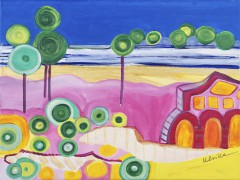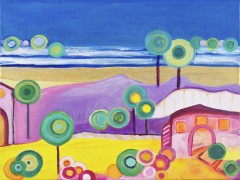 title:
Rolling Ridge by Uli Kapp, displayed at Childrens Hospital, Peabody, MA
About Uli
Born and raised in Germany, the architecture of my hometown and many trips to Italy influenced what I love to paint. I am inspired by European artists like Hundertwasser, Klimt and Klee. Art has been part of my life from early childhood. I come from a family of artists and I had some formal training at school, but my style is selftaught and developed over time.
I am a healing art painter. My profession in health and wellness as a professional reflexologist and associated polarity practitioner influences my artwork. Painting makes me happy and my intention is to make the person looking at my art happy. I paint from imagination, as well as from photos. I integrate balance and flow into my artwork and my life. My artwork is a healing tool for me to bring inner balance into my life and others.
I am a rowing enthusiast. As an active rower and coxswain, I spend many mornings on the Merrimack river and enjoy the sunrise, the different looks of the river in all kind of weather situations. I get inspired by the water, the birds, the clouds, the energy of every stroke in the boat. Painting and expressing what I see and feel makes me happy. While I play around with paint and brush-strokes I create bold and energizing paintings. I am painting in layers mostly acrylics, but also oils on canvas, and mixed media..
I am a resident of Andover for over 20 years and I am current president of the Andovers Artists Guild.